Michael Essien's wife buys Italian 3rd-division club Como
Michael Essien's wife has bought a third-division Italian soccer club at an auction.
Akosua Puni Essien, who is married to the former AC Milan, Chelsea and Real Madrid midfielder, bought Como for 237,000 euros ($254,000).
The price does not include the training center or the Calcio Como brand, and the team will now be known as FC Como.
A club statement says Puni Essien will return to Como soon and that she is "honored to be part of a club which has 110 years of history."
Como was relegated from Serie B last season. It is currently in seventh place and on course for the promotion playoffs.
Jordan Ayew: I don't mind where I play
Swansea City forward Jordan Ayew says he's focused on helping the club achieve success irrespective of the position he's assigned to on the pitch.
The 25-year-old joined from Championship side Aston Villa in January, as part of an exchange deal, which saw Neil Taylor move in the opposite way.
In addition, the Jack Army paid an undisclosed amount for the frontman, who signed a three-and-a-half-year deal.
"Everyone asks me that question [about my ideal position], but to be fair, I don't mind [playing anywhere]," Ayew told his club's official website.
"As long as I am on the pitch, I can give 100 per cent for the team. Hopefully then I can be efficient and decisive.
"In France, I usually played up front. Then, when I went to Aston Villa, I played everywhere: I was up front, behind the striker, on the wing.
"Sometimes when we were attacking I was used in holding midfield."
"I don't mind which position I play, so long as I am on the pitch. I love the game so I don't mind"
Life has not been all rosy for Ayew at the Liberty Stadium.
The striker has made four Premier League appearances thus far, but yet to start a game.
"I have had to be patient for my chance as the team has been doing well," he said.
"I have had some minutes on the pitch but the main thing is we keep winning until the end of the season because then we will still be in the Premier League next season."
Ayew could be handed a first starting role by Paul Clement when Swansea play away to Bournemouth on Saturday.
Ronaldo has better abs but Messi is ahead of everyone – Clemente
The former Spain head coach was forthright in his views as he weighed into the never-ending debate over which Clasico star is betterHe may be the Ballon d'Or winner with an impeccable physique but the Real Madrid star Cristiano Ronaldo should be happy and proud to be second in the world to superior Barcelona rival Lionel Messi, according to Javier Clemente.
Debate over who is the best footballer in the world has intensified since Ronaldo regained the 2016 Ballon d'Or from five-time winner Messi in December, leaving the Portugal captain one behind the Argentina skipper in football's most coveted individual award.
Former Spain head coach Clemente, who enjoyed spells in charge of Athletic Bilbao, Atletico Madrid and Espanyol among others, weighed into the debate and was forthright in his views, claiming that while Ronaldo boasts better abdominal muscles, he simply cannot compete with the natural talent of Messi.
"Messi is ahead of everyone," Clemente, 66, told Cadena SER. "He does different things and the sum of those parts lifts him to first place.
"This doesn't mean the rest aren't any good, and I don't know why some people get angry because of it."
"If you aren't the number one, who cares if you are number two; it's out of your control if one guy is born better than you are.
"Cristiano should be happy and proud to be second in the word.
"Cristiano has better abdominals, a height advantage, and he headers better. There are thing that Cristiano does better, but Messi beats him in technique, ability and vision, and that's that.
"He should be happy and proud to be second in the word, there's no more noble thing in sport to recognize the quality of your rivals."
Messi tops the Liga goalscoring charts with 12 after 16 rounds, two more than Ronaldo ahead of the resumption of league action this weekend.
Too little, too late? Arsenal show champions spirit but title hopes hanging by a thread

The Gunners showed great character to come from three goals down against Bournemouth, but questions will once again be asked over whether they have enough to win the title
---
In normal circumstances, coming from three goals down with 20 minutes to go would be seen as a triumph, even for a team of Arsenal's standards. But following recent defeats, Arsene Wenger did not need another slip-up.
A cold evening on the south coast with less than 48 hours rest certainly did no favours for an Arsenal side who almost lived up to their billing of imploding when it matters most. For so long the masters of self-desturction, it seemed for 70 minutes that they would give their slim title dreams up without so much as a whimper.
In what is likely to be the toughest of their fixtures this month, with games against Swansea, Burnley and Watford yet to come in January, Arsenal's abject first half performance was summed up when Hector Bellerin was easily beaten by Charlie Daniels in the 16th minute, before the Englishman cut inside and finished past Petr Cech.
A penalty was conceded just four minutes later after Granit Xhaka hauled down Ryan Fraser in the box, with Callum Wilson scoring his second successive spot-kick against the Gunners after netting in the reverse fixture in north London. Arsenal ended a torrid opening period without a shot on target and without Francis Coquelin, who hobbled off with a suspected hamstring injury just as Mohamed Elneny had jetted off to the African Cup of Nations.
The reintroduction of Shkodran Mustafi, a player who has still yet to experience defeat as an Arsenal player, didn't make the positive impact Wenger would have hoped for, although inspired second half substitutions from the Frenchman did rescue his team from the brink in the end.
That was only after Bellerin was again left for dead – this time by Fraser – before Cech allowed the Scot's low effort to squeeze through his legs. The Arsenal of old would have simply wilted and allowed the walkover to continue.
But this Gunners squad do seem to have the characted that previous Wenger incarnations have lacked. Alexis Sanchez headed in the first on 70 minutes and five minutes later a supreme strike from Lucas Perez put Arsenal within touching distance of getting something from the game
Deep into the second minute of stoppage time a header from Olivier Giroud salvaged a point for a side whose first half performance was Arsenal's worst of the campaign, but the spirit shown in the second was quite spectacular.
But for all their celebrations following Giroud's equaliser, could their title hopes now be over? A Tottenham victory over Chelsea tomorrow may provide more of an indicator to that question.
'Need to loan him to Rotherham ASAP' – Twitter attacks Iwobi after own goal

 Nov 25, 2016 22:11:28
The Arsenal midfielder was given the chance to impress by manager Arsene Wenger, but was torn to shreds online after helping the ball into his own net
A second-half own goal from Alex Iwobi helped PSG come from behind to draw 2-2 at the Emirates, and saw the midfielder hauled off by manager Arsene Wenger.
The 20-year-old may receive some harsh words from his manager after scoring against his own side, and the fact the goal was chalked up to Lucas Moura did not save him from hostility from Gunners fans online.
Arsenal supporters believe that Iwobi should be benched, with some even suggesting possible loan destinations in order to get rid of the underperforming player!
De Bruyne at right-back & Fernandinho everywhere – Manchester City through as Guardiola's tactics beguile and bewilder
Nov 25, 2016 21:52:41
The Catalan started with what he hoped would be a 'fluid' system and he certainly kept his players on their toes by moving them around the pitch in several different formations
---
COMMENT
---
Manchester City are through to the last 16 of the Champions League after Pep Guardiola rolled out the full gamut of tactical tweaks in an innovative 1-1 draw at Borussia Monchengladbach.
Guardiola is no stranger to switching his team around according to circumstance but he was especially creative on his return to Germany, playing at least four different defensive lines (one of which looked like a diamond), using four different right-backs (including Nicolas Otamendi and Kevin De Bruyne) and asking the versatile Fernandinho to tie everything together, whether as a midfielder, centre-back or something between the two.
In truth, Guardiola probably caused a little too much confusion early on after vowing to start with a "fluid" system that would, it was hoped, switch effortlessly between a back three and a back four.
But, in reality, City's own players looked as baffled as anybody and Gladbach deservedly took the lead when Raffael fired home.
Guardiola went back to a four-man defensive line after that but his side's passing was often sloppy and played into the hosts' hands.
Gladbach, who have gone toe to toe with Guardiola's Bayern Munich teams over the years, elected to sit back and wait for City to surrender possession, and could have increased their advantage by the time David Silva grabbed the crucial equaliser just before the break.
Silva's goal, following a fine move which would prove to be City's best of the match, settled the visitors down and allowed them to take control of the game after half-time.
The Blues looked far happier with Guardiola's demands, even when the hybrid back-three/four morphed into a back-three/four/five, with Fernandinho dropping back and stepping forward, Otamendi covering as a right-back, and Jesus Navas occasionally providing extra support.
City were afforded more space in which to get to grips with their instructions when Lars Stindl was sent off, but when Fernandinho also saw red – seemingly for walking past Raffael – it was time for another reshuffle, with Bacary Sagna entering the fray.
Gladbach needed to win by several goals to have any chance of making the last 16 but did not feel emboldened enough by Fernandinho's red card to venture forward.
City saw the game out by putting several passing moves together but, despite goals for Raheem Sterling and Silva which were ruled out for offside, did not look at their dynamic best.
In fairness they did not have to be, and they got the result which means they can now approach the Chelsea game on December 3 safe in the knowledge that they can play a second string against Celtic in their final European group game.
It was by no means City's best game of the season but it certainly offered a glimpse of things to come, not least as Guardiola hopes his side will be considerably better by the time they play their last 16 match in the new year.
He will continue to mould his players over the coming months in the hope that they will come up with the answers no matter what is thrown at them.
By the end at Borussia Park, De Bruyne spent some time at right-back while Sagna moved into central midfield.
Such was Guardiola's scheming you could even have been forgiven for thinking Fernando, who waited on the sidelines for so long before giving up on his chances of playing and returning to the bench, had played some kind of 'false substitute' role.
City got the result they needed, if not necessarily wanted, and can now look forward to the knock-out stages. Guardiola's pursuit of perfection, however, will go on.
 Appiah gives assessment of Grant after Egypt defeat
Former Ghana captain Stephen Appiah is unhappy with Avram Grant's tactical approach to the 2-0 away reversal to Egypt on Sunday.
The Black Stars conceded a goal in each half in the matchday two encounter of the 2018 Fifa World Cup qualifiers at the Borg El Arab Stadium in Alexandria, Mohamed Salah and Abdallah El-Said the proud scorers.
Appiah, who captained Ghana at the 2006 and 2010 World Cup tournaments, is particularly disturbed by Grant's substitution of Atletico Madrid star Thomas Teye Partey in the 73rd minute.
"I was amazed when Partey was substituted from the game because he was our danger man on the day," Appiah told Gh One TV.
"Anytime he had the ball, he moved swiftly and his direct runs caused the Egyptians a lot of problem but I think only the coach can explain the reason why he substituted him.
"People are questioning the mentality of the players but I don't think it's only about them; it's about the coach's as well.
"Before commencement of the match, everyone was talking about Mohamed Salah, Ramadan Sohbi and Abdallah Said.
"And indeed, they made the difference in the team, [and that] was a full testament of their coach's tactical plan."
Ghana sit second from bottom with just a point after matchday two following an earlier draw with Uganda in October.
Egypt occupy the first position with six points, while second-placed Uganda boast of four points.
To stand any chance of qualifying for their fourth successive World Cup, the Black Stars must win their remaining four games and hope that both Egypt and Uganda drop points along the line.
 Messi 'signs' for Chicago Bulls
Lionel Messi has it all. The five-time Ballon d'Or winner is recognised as one of the greatest players of all time and is continuing to break records for boyhood club Barcelona.
Messi has the money, the cars and the so-called perfect family life. He even has a swanky new hair-beard combo. And now, most importantly, Messi has a personalised Chicago Bulls jersey.
The Argentina star has previously been spotted walking his dog in an older Bulls top, and has now been presented with a more glamorous edition by the team, which they posted on Twitter.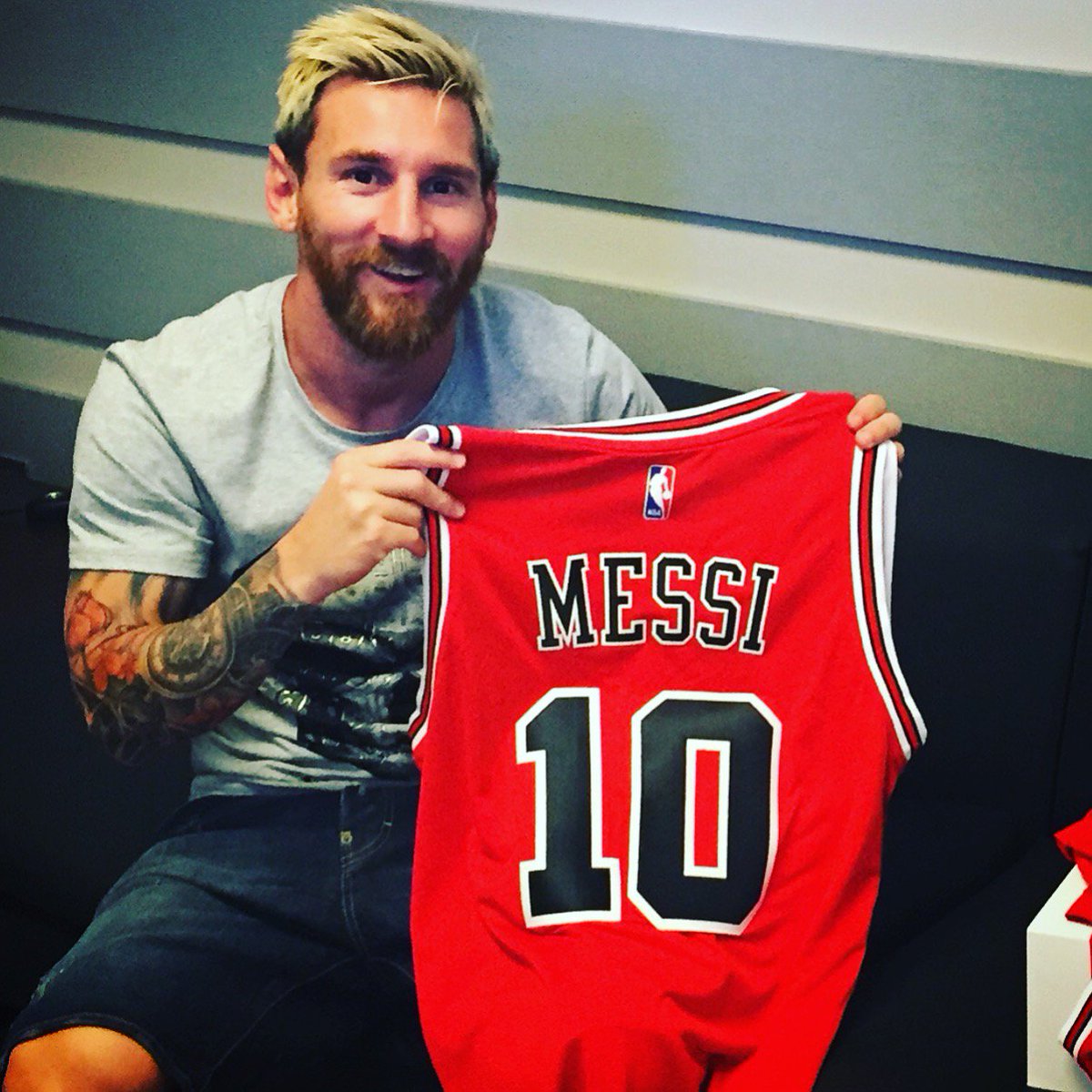 Naturally, the comments largely overlooked the image, as fans of the Barcelona forward lauded his status as one of the best on the planet and replied with video clips of some of Messi's finest moments.
Some even compared him to Chicago Bulls and NBA legend Michael Jordan. Now there's a compliment!
PSG's powers of recovery impress Cavani

Sep 29, 2016 09:13:24
The Uruguay striker acknowledged was the win over Ludogorets was far from straightforward but took positives from the tie after playing a key role
Edinson Cavani praised Paris Saint-Germain for coming through a shaky start to defeat Ludogorets 3-1 in the Champions League on Wednesday.
The French champions fell behind in Bulgaria when Natanael's free-kick put the hosts ahead, but Blaise Matuidi levelled the match before half-time.
Cavani then intervened after the break, with two goals in a five-minute span just before the hour mark proving decisive in a frantic spell that also saw Alphonse Areola save a penalty from Cosmin Moti prior to the Uruguay striker's second goal.
The 29-year-old's double moved him on to nine strikes from eight appearances so far this season and he was thrilled to emerge from a tough night with maximum points.
"The first half was difficult after we conceded that goal," Cavani told PSG's official website.
"But after our equaliser, we played our own game. We found a way to put into place the things we work on in training.
"This is an important win. We need to keep working hard in order to keep on getting the wins."
Matuidi, meanwhile, acknowledged the match was wide open but felt PSG were rewarded for their patience.
The France international said: "That was no easy match. They were really up for it.
"There were a lot of chances – it was an open match – but we managed to react and level it before the break before killing it off. I think we played our game.
"We were patient, but we also managed to get forward at pace from time to time and that made for a great match of football."
Sep 29, 2016 05:24:11
The Ivorian striker was a handful for the Spurs backline in the Champions League despite CSKA losing by the odd goal at home
Tottenham defender Kieran Trippier said Ivorian striker Lacina Traore can make it big in the Premier League after his performance in Tuesday's Champions League game in Moscow.
Despite CSKA losing 1-0 to the visitors, Traore was a handful for his markers who found it difficult to contain the 6'8in giant whenever he chased the ball down the pitch.
Spurs were able to keep him at bay for the duration of the game as they limited his access during corner kicks but he left a good impression on Trippier who made his Champions League bow in the encounter ahead of the more established Kyle Walker.
""I was confident of winning from the start. CSKA played aggressively, but we were ready for them," Trippier was quoted by the Championat website.
"We won the game, although the powerful African is good. He could play in the Premier League," Trippier said.
Traore spent time on loan at Everton in 2014 but failed to make a lasting impression having been afforded little game time.
He has scored three goals in seven matches for CSKA in the Russian Premier League during his loan move from Monaco.
The 26-year-old has been reported to be on the radar of some English clubs in recent time.
 Tevez: I may retire this year
Sep 28, 2016 08:43:37
The Argentina striker says there are many aspects of football which he does not like and, after being given a three-match ban, has stated he could quit the game
Argentina striker Carlos Tevez has blamed the media for him receiving a suspension and has said he could quit football by the end of the year.
Tevez, 32, currently plays for Boca Juniors in his homeland, having previously enjoyed success with Manchester United, Manchester City and Juventus in Europe.
But he has voiced frustration at a number of aspects of the domestic game in Argentina, including the pressure placed on Boca by external factors such as the media, who he blamed for a three-match ban picked up earlier this month for dissent.
"The penalty was given to me by journalists and not the committee," he told Fox Sports. "They pushed to give me three matches."
He continued: "If we draw, Boca are in crisis – River Plate not so much. They tie and play well, everything is nice.
"I enjoy football but not everything that surrounds it."
Tevez also criticised the short-term nature of fixture planning, adding: "In Europe you know what date you will play each team for the first six months.
"Here, you find out on Monday if you play on Friday.
"There is a possibility I could quit at the end of the year. I'm thinking about it."
Tevez has won 76 caps for his country.
Atletico Madrid v Bayern Munich Betting: Low-key opening expected
Sep 28, 2016 08:08:10
After a dramatic semi-final encounter last season, these two sides meet again in the Champions League and we are backing a tight opening 45 minutes in the Spanish capital
Atletico manager Diego Simeone has been critical of the Spanish league having scheduled his side to play against Deportivo La Coruna on Sunday and not earlier given their European committments.
Los Rojiblancos are the only side in Champions League action this week to have played on Sunday and while they overcame Depor 1-0, having 24 hours less time to recover for a game against a team like Bayern Munich is far from ideal.
Atleti, however, seem to thrive against the odds, as they did at the start of May when they knocked Bayern out of this competition at the semi final stage. Much has changed in Bavaria since then, with a new manager taking over in Carlo Ancelotti, and some new players added to the squad, although the expectations at the Allianz Arena remain sky-high.
The Germans are favorites for their trip to the Spanish capital with bet365 pricing them at a healthy 6/4 (2.50) while Atletico are offered at 11/5 (3.20) and the draw can be backed at the same price. While Bayern have made a perfect start under Ancelotti, there is perhaps the feeling that the side is not quite as difficult to beat as they were under Pep Guardiola.
Their style may still be pleasing although they are unlikely to be as intense and certainly on Saturday afternoon they struggled to break down Hamburg, before netting in the 88th minute to claim a 1-0 victory. Atleti too had to wait a while for their goal against Depor, as they have had to on a few occasions already this season.
f neither side are expected to come flying out of the blocks at the Estadio Vicente Calderon, then perhaps there could be some value in backing a goalless opening 45 minutes at 11/8 (2.37). Certainly the bookmakers do not envisage a high scoring game, with over 2.5 goals offered at 4/7 (1.57) and given what we have seen from these two sides this season, it is likely to be pretty tight. Both teams will expect to progress from this group and could be more concerned with keeping things tight in the early stages.
Another angle to consider is backing the draw at half time which is offered at evens (2.00) and is a selection which has paid out in two of Atletico's three home matches so far this season. Meanwhile in Bayern's last two away matches they have found it tough going to break down opponents with the Bavarians winning 2-0 at Schalke thanks to two goals in the last nine minutes, and their win at Hamburg secured two minutes from the final whistle
Leicester's Algerian axis taking the Foxes to the next level
Sep 27, 2016 09:02:47
Compatriots Islam Slimani and Riyad Mahrez have already showcased a fine understanding at the King Power Stadium and will be key to beating Porto
When casual fans are asked to name African footballing superpowers, countries such as Nigeria, Cameroon and, more recently, Ivory Coast are generally among those who come to mind. But, while those traditional World Cup participants struggle to move on from their respective golden generations, there is a new name who could well make their mark on the world stage in the coming years.
Algeria possess one of the brightest young squads in world football and, having taken Germany to extra-time in the last-16 of the 2014 World Cup, they are likely to head to Russia in less than two years' time as the team to beat from the second largest continent in the world.
That fact has not been lost on Leicester City, who – after enjoying the fruits of Riyad Mahrez's labours for the past three seasons – have now brought in Islam Slimani in a bid to get the best out of both players. Slimani has already revealed that Mahrez played a big role in getting him to the King Power Stadium, and the hope is the two will combine to devastating effect.
But, with the Foxes stuttering already in the defence of their Premier League crown, it is in the Champions League where their partnership seems most likely to come to fruition. Mahrez has already showcased his aptitude for the big occasion by putting in a man-of-the-match performance in Leicester's first ever match in Europe's premier club competition against Club Brugge while Slimani's two goals against Burnley on his domestic debut point to a player who is already settling well into life in the east Midlands.
Francesco Totti at 40 – Rome's favourite son
Between them the pair have scored 29 goals in 69 international appearances and against Porto it is they – along with Jamie Vardy – who Ranieri will be looking to in a bid to put the Portuguese side to the sword and in the process put the English champions on the cusp of the knockout stages after just two matches.
Slimani has fond memories of taking on the Portuguese outfit having scored six goals in as many games against them during his time with Sporting. Such a record earned him the nickname 'Dragon slayer' in Lisbon, and Ranieri will likely be looking to the club's record signing for clues as to how to break down Nuno's side.
Ronaldo Curses Zidane- As Details of Their Dressing Room Row is Revealed
'Bullet' Aubameyang would be a good fit at Real Madrid – Merino
   Sep 26, 2016 07:31:02
The Borussia Dortmund defender believes his team-mate, who has been strongly linked with a big-money move to the Santiago Bernabeu, would flourish at Los Blancos
---
EXCLUSIVE
---
Borussia Dortmund defender Mikel Merino believes team-mate Pierre-Emerick Aubameyang is tailor-made for Real Madrid.
Selfish Cristiano Ronaldo must realise the team comes first after latest tantrum
Aubameyang, who is recognised as one of the best strikers in the world, was strongly linked with a big-money summer move to the European champions.
And ahead of Dortmund's meeting with Madrid in the Champions League on Tuesday, Merino believes the 27-year-old has the right qualities to flourish at the Santiago Bernabeu.
Speaking exclusively to Goal, Merino said: "Aubameyang is a bullet! I knew it [before I was converted into a defender], but when you have to defend against him as centre-back, you can feel it much more.
"Not just because of his speed, but also for his good movements and his finishing. He's a top player. Would he fit at Real Madrid? The strikers there need to score and make a difference. He does it.
Abdul Rahman Baba plays as Schalke suffer fifth straight Bundesliga loss
The Ghanaian defender was on throughout in Sunday's game at the WIRSOL Rhein-Neckar-Arena where his side fell for the fifth straight time this season
Abdul Rahman Baba was on from start to finish in Schalke's 2-1 loss to Hoffenheim on Sunday evening.
The Ghana international made his fifth appearance in the Bundesliga season for Marcus Weinzierl's men who started well but were eventually pegged back by the hosts.
It was their fifth straight defeat in the 2016/17 season,
Cameroonian forward Eric Choupo-Moting got the visitors into an early lead in the fourth minute from an assist by Breel Embolo.
But the hosts fought back and were rewarded for their persistence in the 17th minute when Andrej Kramarić got the equaliser.
Lukas Rupp eventually scored the winner for Hoffenheim in the 44th minute to ensure the visitors continue in search of their first points of the season.
Baba is on loan from Chelsea where he spent last season in the first team. However, new coach Antonio Conte found him surplus to requirements and shipped him off to the Bundesliga where he can find regular playing time.
But Schalke's poor run thus far, where they have conceded 10 goals in five matches, is not helping his credentials.
However, Baba was named in the Uefa Europa League team of the week after he fired Schalke to a 1-0 away win at Nice a fortnight ago, their only bright spark in the season thus far.
Injury rules out Asamoah for six weeks
The 27-year-old suffered an injury set-back while in club action on Saturday
Juventus midfielder Kwadwo Asamoah is set for another time on the sidelines after picking up an injury on Saturday.
The Ghanaian suffered a knee sprain in the 1-0 win over Palermo in the Italian Serie A after coming on as a 68th minute substitute, but, nonetheless, held on to finish the game.
"At J-Medical, the extent of the injuries sustained by Daniele Rugani and Kwadwo Asamoah were clarified following medical examinations today," the club announced on Sunday.
"The tests revealed that Asamoah has ruptured the meniscus cartilage, while Rugani has strained the lateral collateral ligament, both in the right knee.
"The former is expected to undergo surgery with both players anticipated to return within around 45 days."
It will be a massive blow to the development of the player who had been in and out of action prior to this season due to a recurrent knee problem.
He, however, seemed to have overcome his devils this campaign, making all matchday squads so far and going on to make five appearances in all competitions.
Having been out of Ghana's set-up since 2014, reports had hinted a return when the Black Stars host Uganda in the 2018 Fifa World Cup qualifiers on October 7.
The latest development, though, effectively rules him out of the game as well as the international friendly with South Africa four days later.
'Robben's style to blame for his injuries'

Sep 24, 2016 11:51:17
The winger's explosive nature on the pitch increases his risks but Bayern Munich are working to curb such incidents, says the club's fitness coach
Bayern Munich fitness coach Giovanni Mauri believes Arjen Robben's injury woes are the result of his style of play, but is confident they can keep the Dutchman fit with the right training regime.
The Netherlands international made his comeback after a lengthy spell on the sidelines due to a series of injuries in Bayern's 3-0 win over Hertha Berlin on Wednesday – scoring on his return.
Robben made just 22 appearances in all competitions last term, though the Bundesliga champions are determined to do everything within their power to keep the 32-year-old fit this time around.
"Arjen Robben's characteristics make him a vulnerable player," Mauri told TZ.
"His typical sprints and explosiveness are crucial to him. These characteristics always pose a certain injury risk, though.
"But you can significantly limit the risk with the right training regime. That is our goal right now.
"Arjen has left this difficult spell with injuries behind him. He will 100 per cent certain become the same player he was before his injuries again.
"It is now up to him, to us and to the right training regime to ensure he remains injury free."
Messi injury does not matter to Barcelona – Aberlardo
Sep 24, 2016 11:18:29
The immense resources available to Luis Enrique means his side are unlikely to notice their talisman's absence, says the ex-Blaugrana player
Lionel Messi's absence through injury will not make a difference to Barcelona, according to Sporting Gijon boss Abelardo.
The Argentina star is set to miss three weeks of action with a groin strain he picked up during the 1-1 draw against Atletico Madrid at Camp Nou on Wednesday.
Messi is expected to sit out Saturday's clash with Sporting, the Champions League t
But former Spain international Abelardo, twice a La Liga winner with Barca during his playing career, says the resources at Luis Enrique's disposal mean that Messi will not be missed.
"It doesn't matter if Messi plays or not, because Barcelona enjoy amazing resources and a great squad," he said, speaking ahead of Sporting's trip to Camp Nou on Saturday.
"Messi is a super-dominant player, but Barcelona have an extraordinary squad. Messi has been absent on other occasions and the result hasn't changed.
"It's a really beautiful game to play. They're one of the best teams in the world, if not the best, and we're going to give it a go without weapons."
Vincent Enyeama
Vincent Enyeama: LOSC Lille have endured a miserable start to the season, losing four of their opening six matches to find themselves in the relegation zone. There's talk of crisis at the Stade Pierre Mauroy, and coach Frederic Antonetti will be counting on experienced hands like Enyeama to ensure that the rot stops with the tip to Saint-Etienne on Sunday evening.
Wenger and in-form Iwobi showing up Chelsea's youth policy
Sep 23, 2016 06:35:01
With the young Nigeria star shining for the Gunners, what is stopping the Blues from giving opportunities to their vast array of young talents?
---
COMMENT
---
Alex Iwobi is a rare commodity in the Premier League. He's a player who has graduated from Arsenal's Hale End academy system and gone on to make more than 15 appearances for the first team. The main objective of an academy is to develop youngsters who can gradually become regular mainstays of the senior squad. Youth graduates, much like university graduates, remain hopeful of getting into that coveted dream job or position.
Iwobi's rise to fruition has been a fast one, having broken onto the scene last season and getting his first Champions League start in a 3-1 defeat to Barcelona at the Nou Camp, it's fair to say that the Nigerian international has adapted to the pressures of top flight football. The 19-year-old is also the nephew of legendary attacking midfielder Jay-Jay Okocha.
"He is always telling me that he knows a lot has happened and that I have come far, but he says to stay humble and that I will go far," Iwobi said in an interview with Arsenal's official website last season.
Humility is one facet of Iwobi's game which remains hard to come by in today's professional footballers. He comes from a tight-knit family background and is never pictured leaving nightclubs or doing anything untoward, with many players his age more used to featuring on the front pages of newspapers instead of the back. That's why Arsene Wenger has put such faith in the youngster over the past season and a half.
"What I like is his love for the game, his passion for the game and his hard work", lauded the Frenchman following the 4-1 win over Hull last weekend.
Wenger has had plenty of talented academy graduates over the years. The main reason why only a select few have become first-team regulars is not necessarily down to talent and more a case of attitude. Iwobi is humble and emits confidence – not arrogance – when he's on and off the pitch. He has the most assists for Arsenal in 2016, more than Mesut Ozil, and his impressive displays in the opening few Premier League games this season show that he is ready for another explosive campaign.
Six Arsenal academy products have gone on to make over 10 appearances for the club in the top flight, while nine altogether have played for the first team. Ainsley Maitland-Niles' appearance in an unfamiliar position at right-back against Nottingham Forest on Tuesday night continued Wenger's trend of fielding young talents in the League Cup matches.